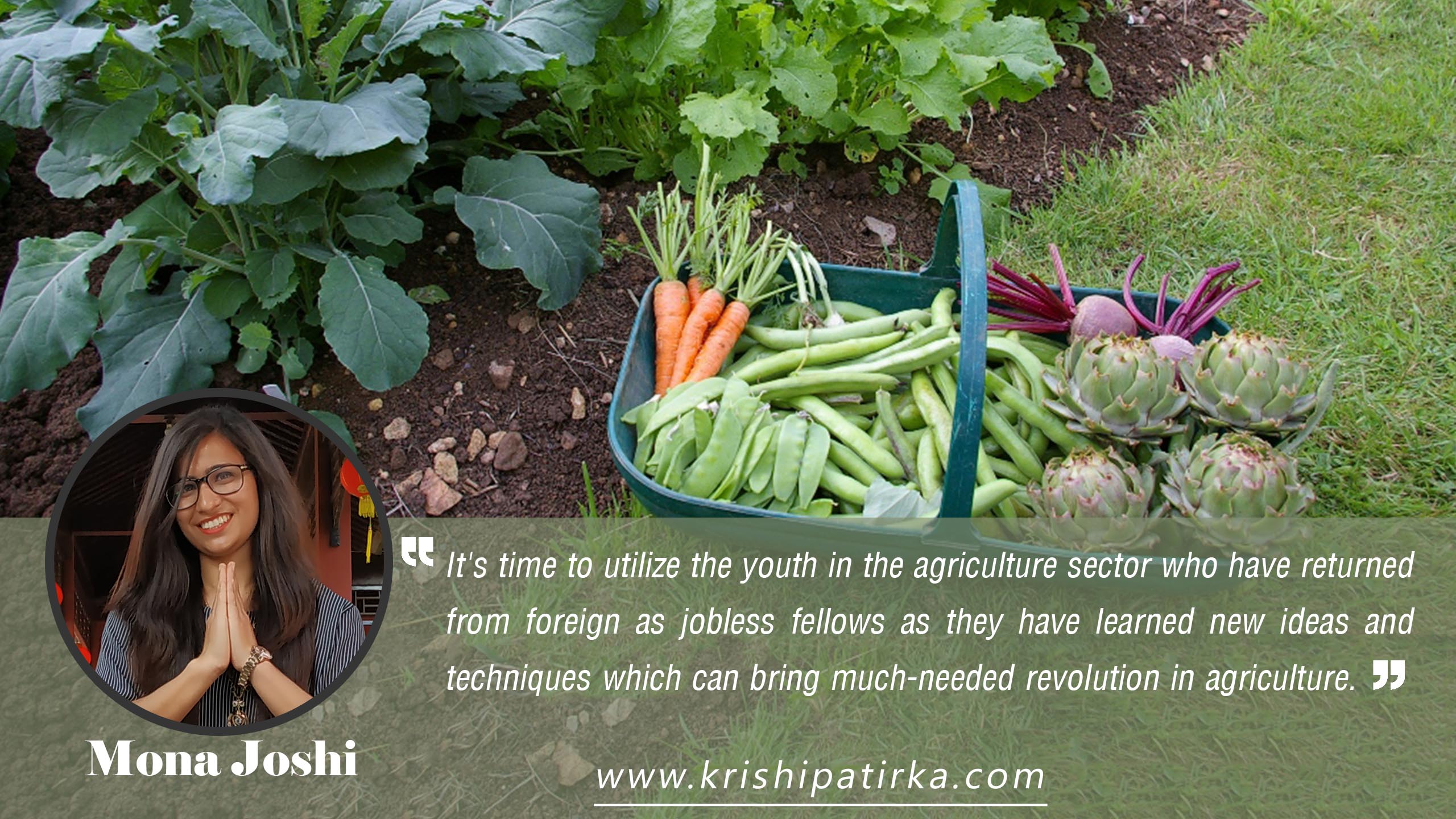 As the novel coronavirus, COVID-19 continues to spread putting enormous strains on the public health system around the world it also has a potential impact on food supply and food demand globally and within the country too due to lockdown going on to avoid its transfer. This severe situation has badly affected the country which relies on tourism, remittances, and countries whose informal sector, service sector, and manufacturing sector are a big part of the population. Weird job losses and lockdown has made people more vulnerable. Due to this pandemic, no. of people suffering from acute food insecurity has increased rapidly and over 265 million face hunger globally. We can see both demand-side crises like people losing their jobs and thus their food purchasing power and supply-side crisis like transportation is not working as it was before i.e. international trade has been stopped this has created difficulty to take the things from the area of production to an area of need and at the same time at the global level. That makes it an unprecedented crisis. Right now we have enough food in the world but a major problem is its transportation. But going forward farmers are not able to go to their field and not getting proper access to fertilizer, seeds, and other inputs due to which production for next marketing year seems terrible as global stock will not be enough.
COVID-19 in Nepal has opened the nation's eyes to the importance of small-scale rural producers for providing the population with fresh and nutritious food. It has highlighted the need for individuals, communities, organizations, and government bodies to make traditional agriculture and family farming practices more sustainable and resilient in the face of future crises. Its havoc has justified the importance of agriculture due to which most of the people had shown interest in agriculture.
According to the current data, around four million Nepalese are overseas for employment. Besides, hundreds of thousands of people have gone to various Indian states for income as seasonal migrant workers. The pandemic has hit our foreign employment hubs. Host countries have already put pressure on them to return to Nepal due to which immigrant's no. has increased rapidly and thus the demand for food has increased. But, the Nepal government is less prepared to cope with this shock. It may create immediate chaos and longer-term disturbance that may lead to the system collapse. Government of Nepal has declared lockdown throughout the nation to control its spread but due to this, the food import from India has been severely affected because India itself is facing lockdown and decline in food production and farmers also have chances of production decline. Because fertilizer, seed, fuel, machinery are not being imported from India as before due to the tightening of international trade. In this situation, the only solution is being self-sufficient in food production so that the country could not face the severe food crisis shortly.
Food self-sufficiency means being able to meet consumption needs (particularly for staple food crops) from own production rather than by buying or importing. And Nepal has the potentiality to be a food self-sufficient country as Nepal is an agricultural country and has diversified land and topography, rich in biodiversity and enormous natural resources with fertile land. Food self-sufficiency is important because it has direct implications for a country's or region's ability to independently meet the dietary needs of its population, regardless of external circumstances, for sustaining economy, to stop hike of food prices, to employ the immigrated youths in agriculture and to prevent the havoc of malnutrition which can occur due to food crisis in future. To make the country self-sufficient in food during the havoc of the COVID-19, the government should facilitate the supply chain, farmers should be provided with seed, and fertilizer at the right time, the government should strictly prohibit the black market of agriculture products and those involved in it should be punished. The news like farmers destroying their crops grown in hectares as they didn't get the market to sell the solution to this can be freezing, canning, and dehydrating to increase the shelf-life of those products. The country should develop enough cold storage so that these stored products could meet future demand. Despite destroying the products farmers should make diversified products that have a long shelf life, like tomatoes can be used to make ketchup, candy of ginger, strawberry ketchup, etc. Farmers should learn such techniques and earn benefits from their hard work. Everyone should emphasize kitchen gardening utilizing the lockdown days and grow crops that will be enough to feed their family which will automatically remove the food insecurity from the nation. COVID-19 is havoc but if we efficiently utilize the available resources then it can be taken as a huge opportunity to make our country self-reliant in food. It's time to utilize the youth in the agriculture sector who have returned from foreign as jobless fellows as they have learned new ideas and techniques which can bring much-needed revolution in agriculture.
In Israel, only about 4 percent of the population is engaged in agriculture. But it meets 95 percent of the country's food needs. More than 65 percent of Nepal's population is dependent on agriculture and we import more than Rs 220 billion worth of food annually. So here is a need to improve the way of agriculture. People should follow new technology rather than depending on old farming practices. Farmer should be providing training and enough knowledge about different innovative farming practices such as backyard gardening, vertical gardening, container gardening, hanging garden, aquaponics, tower gardening, Nutrient Film Techniques (NFT), hydroponics and most importantly rooftop gardening which can safe there time as well as effort and provide enough productions. To cope with climate challenges Climate Smart Agriculture has been the best solution. Breeding programs to develop resistant varieties should be given more priority. Farmers should get enough subsidy in agriculture inputs so that they can adopt new farming practices. Crop insurance by the government can increase their risk-taking ability. Various training on good agricultural practices and extension work should be carried out to make farmers aware about new technology. The development of community seed banks to fulfill demand during the crisis has been useful. Cultivation should also be started in the barren land. Permaculture, Bio-intensive agriculture, mechanized agriculture, System of Rice Intensification(SRI) to raise the paddy production with less external inputs, multi-tier cropping, riverbed farming, use of more water-efficient means of irrigation like drip irrigation, etc. and other several forms of agricultural intensification incorporating sustainable approaches could be adopted by farmers for increasing the production. The adoption of organic farming on such land can improve the fertility of the soil and thus improved productivity.
Writer : Mona Joshi